Walmart 702 S.W. 8th St. Bentonville AK, USA
State Grid Beijing Xicheng District, China
Sinopec Chaoyang District,Beijing, China
China National Petroleum Dongcheng District‎, ‎Beijing, China
Royal Dutch Shell ‎Haagse Hout, The Hague, Netherlands
Toyota HQ Toyota City, Aichi‎, Japan
Volkswagen Wolfsburg, Germany
BP 1 St James's Square London, UK
Exxon Mobil Irving, Texas, USA
Berkshire Hathaway Kiewit Plaza‎, ‎Omaha, Nebraska‎, USA
Apple 1 Apple Park Way, Cupertino, California, USA
Samsung Seocho District, Seoul, South Korea
McKesson ‎Irving, Texas‎, USA
Glencore ‎Baar, Switzerland‎
United Health Minnetonka, Minnesota‎, USA
Daimler Mercedesstraße‎, ‎Stuttgart‎, Germany
CVS Health Woonsocket, Rhode Island, USA
Amazon Seattle, Washington, USA
Exor Amsterdam, Netherlands
ATandT HQ, Whitacre Tower, Dallas, Texas, USA
General Motors ‎Detroit, Michigan‎, USA
Ford ‎HQ, Dearborn, Michigan‎, USA
China State Construction ‎Beijing, China
Foxconn ‎Tucheng District, New Taipei, Taiwan
AmerisourceBergen ‎Chesterbrook, Pennsylvania‎, USA
World's Top 25 Largest Companies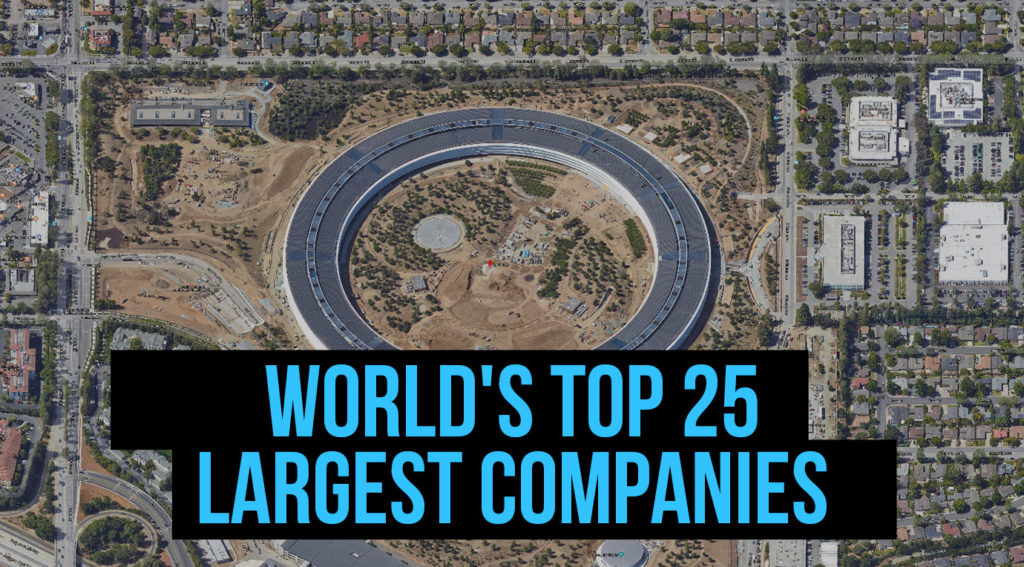 This list includes the largest companies in the world after consolidated sales as of 2018, according to the Fortune Global 500. American retailer Walmart has been the largest company in the world since 2014.
The list is limited to 50 companies, all of which have annual sales of more than $ 110 billion. 21 companies come from North America, 16 from Asia and 13 from Europe. Among them are only companies that publish financial data and report numbers to a government agency.

Therefore, this list is incomplete because it excludes large companies such as Cargill, Koch Industries, Kuwait Petroleum Corporation and Saudi Aramco, which do not publish financial information.
Rank    

Name

 

Revenue USD millions       

 

Employees     

Flag

 

1

Walmart

 

$500,343

 

2,300,000

 

2

State Grid

 

$348,903

 

913,546

 

3

Sinopec

 

$326,953

 

667,793

 

4

China National Petroleum

 

$326,008

 

1,636,532

 

5

Royal Dutch Shell

 

$311,870

 

84,000

 

6

Toyota

 

$265,172

 

369,124

 

7

Volkswagen

 

$260,028

 

642,292

 

8

BP

 

$244,582

 

74,000

 

9

Exxon Mobil

 

$244,363

 

71,200

 

10

Berkshire Hathaway

 

$242,137

 

377,000

 

11

Apple

 

$229,234

 

123,000

 

12

Samsung

 

$211,940

 

320,671

 

13

McKesson

 

$208,357

 

68,000

 

14

Glencore

 

$205,476

 

82,681

 

15

United Health

 

$201,159

 

260,000

 

16

Daimler

 

$185,235

 

289,321

 

17

CVS Health

 

$184,765

 

203,000

 

18

Amazon

 

$177,866

 

566,000

 

19

Exor

 

$161,677

 

307,637

 

20

AT&T

 

$160,546

 

254,000

 

21

General Motors

 

$157,311

 

180,000

 

22

Ford

 

$156,776

 

202,000

 

23

China State Construction

 

$156,071

 

270,467

 

24

Foxconn

 

$154,699

 

803,126

 

25

AmerisourceBergen

 

$153,144

 

19,500

 

26

Industrial & Commercial
Bank of China

 

$153,021

 

453,048

 

27

AXA

 

$149,461

 

95,728

 

28

Total

 

$149,099

 

98,277

 

29

Ping An Insurance

 

$144,197

 

342,550

 

30

Honda

 

$138,646

 

215,638

 

31

China Construction Bank

 

$138,594

 

370,415

 

32

Trafigura

 

$136,421

 

3,935

 

33

Chevron

 

$134,533

 

51,900

 

34

Cardinal Health

 

$129,976

 

40,400

 

35

Costco

 

$129,025

 

182,000

 

36

SAIC Motor

 

$128,819

 

148,767

 

37

Verizon

 

$126,034

 

155,400

 

38

Allianz

 

$123,532

 

140,553

 

39

Kroger

 

$122,662

 

449,000

 

40

Agricultural Bank of China

 

$122,366

 

491,578

 

41

General Electric

 

$122,274

 

313,000

 

42

China Life Insurance

 

$120,224

 

170,517

 

43

Walgreens Boots Alliance

 

$118,214

 

290,000

 

44

BNP Paribas

 

$117,375

 

189,509

 

45

Japan Post Holdings

 

$116,616

 

245,863

 

46

Bank of China

 

$115,423

 

311,133

 

47

JPMorgan Chase

 

$113,899

 

252,539

 

48

Fannie Mae

 

$112,394

 

7,200

 

49

Gazprom

 

$111,983

 

469,600

 

50

Tata Group

 

$110,700

 

702,454