Countries
Afghanistan
Albania
Algeria
Andorra
Angola
Antigua and Barbuda
Argentina
Armenia
Australia
Austria
Azerbaijan
 
Bahamas
Bahrain
Bangladesh
Barbados
Belarus
Belgium
Belize
Benin
Bhutan
Bolivia
Bosnia and Herzegovina
Botswana
Brazil
Brunei
Bulgaria
Burkina Faso
Burundi
 
Cabo Verde
Cambodia
Cameroon
Canada
Central African Republic
Chad
Chile
China
Colombia
Comoros
Congo
Democratic Republic of Congo
Costa Rica
Cote d'Ivoire
Croatia
Cuba
Cyprus
Czech Republic
 
Denmark
Djibouti
Dominica
Dominican Republic
 
Ecuador
Egypt
El Salvador
Equatorial Guinea
Eritrea
Estonia
Ethiopia
 
Fiji
Finland
France
 
Gabon
Gambia
Georgia
Germany
Ghana
Greece
Grenada
Guatemala
Guinea
Guinea-Bissau
Guyana
 
Haiti
Honduras
Hungary
 
Iceland
India
Indonesia
Iran
Iraq
Ireland
Israel
Italy
 
Jamaica
Japan
Jordan
 
Kazakhstan
Kenya
Kiribati
Kosovo
Kuwait
Kyrgyzstan
 
Laos
Latvia
Lebanon
Lesotho
Liberia
Libya
Liechtenstein
Lithuania
Luxembourg
 
Macedonia
Madagascar
Malawi
Malaysia
Maldives
Mali
Malta
Marshall Islands
Mauritania
Mauritius
Mexico
Micronesia
Moldova
Monaco
Mongolia
Montenegro
Morocco
Mozambique
Myanmar (Burma)
 
Namibia
Nauru
Nepal
Netherlands
New Zealand
Nicaragua
Niger
Nigeria
North Korea
Norway
 
Oman
 
Pakistan
Palau
Palestine
Panama
Papua New Guinea
Paraguay
Peru
Philippines
Poland
Portugal
 
Qatar
 
Romania
Russia
Rwanda
 
St. Kitts and Nevis
St. Lucia
St. Vincent and The Grenadines
Samoa
San Marino
Sao Tome and Principe
Saudi Arabia
Senegal
Serbia
Seychelles
Sierra Leone
Singapore
Slovakia
Slovenia
Solomon Islands
Somalia
South Africa
South Korea
South Sudan
Spain
Sri Lanka
Sudan
Suriname
Swaziland
Sweden
Switzerland
Syria
 
Taiwan
Tajikistan
Tanzania
Thailand
Timor-Leste
Togo
Tonga
Trinidad and Tobago
Tunisia
Turkey
Turkmenistan
Tuvalu
 
Uganda
Ukraine
United Arab Emirates
UK (United Kingdom)
USA
Uruguay
Uzbekistan
 
Vanuatu
Vatican City
Venezuela
Vietnam
 
Yemen
 
Zambia
Zimbabwe
 
Capitals
Afghanistan – Kabul
Albania – Tirana
Algeria – Algiers
Andorra – Andorra la Vella
Angola – Luanda
Antigua and Barbuda – Saint John's
Argentina – Buenos Aires
Armenia – Yerevan
Australia – Canberra
Austria – Vienna
Azerbaijan – Baku
 
Bahamas – Nassau
Bahrain – Manama
Bangladesh – Dhaka
Barbados – Bridgetown
Belarus – Minsk
Belgium – Brussels
Belize – Belmopan
Benin – Porto-Novo
Bhutan – Thimphu
Bolivia – La Paz
Bosnia and Herzegovina – Sarajevo
Botswana – Gaborone
Brazil – Brasilia
Brunei – Bandar Seri Begawan
Bulgaria – Sofia
Burkina Faso – Ouagadougou
Burundi – Bujumbura
 
Cabo Verde – Praia
Cambodia – Phnom Penh
Cameroon – Yaoundé
Canada – Ottawa
Central African Republic – Bangui
Chad – N'Djamena
Chile – Santiago
China – Beijing
Colombia – Bogotá
Comoros – Moroni
Congo – Brazzaville
Democratic Republic of the Congo- Kinshasa
Costa Rica – San Jose
Cote d'Ivoire – Yamoussoukro
Croatia – Zagreb
Cuba – Havana
Cyprus – Nicosia
Czech Republic – Prague
 
Denmark – Copenhagen
Djibouti – Djibouti (city)
Dominica – Roseau
Dominican Republic – Santo Domingo
 
Ecuador – Quito
Egypt – Cairo
El Salvador – San Salvador
Equatorial Guinea – Malabo
Eritrea – Asmara
Estonia – Tallinn
Ethiopia – Addis Ababa
 
Fiji – Suva
Finland – Helsinki
France – Paris
 
Gabon – Libreville
Gambia – Banjul
Georgia – Tbilisi
Germany – Berlin
Ghana – Accra
Greece – Athens
Grenada – St. George's
Guatemala – Guatemala City
Guinea – Conakry
Guinea-Bissau – Bissau
Guyana – Georgetown
 
Haiti – Port-au-Prince
Honduras – Tegucigalpa
Hungary – Budapest
 
Iceland – Reykjavik
India – New Delhi
Indonesia – Jakarta
Iran – Tehran
Iraq – Baghdad
Ireland – Dublin
Israel – Jerusalem
Italy – Rome
 
Jamaica – Kingston
Japan – Tokyo
Jordan – Amman
 
Kazakhstan – Astana
Kenya – Nairobi
Kiribati – South Tarawa
Kosovo – Pristina
Kuwait – Kuwait City
Kyrgyzstan – Bishkek
 
Laos – Vientiane
Latvia – Riga
Lebanon – Beirut
Lesotho – Maseru
Liberia – Monrovia
Libya – Tripoli
Liechtenstein – Vaduz
Lithuania – Vilnius
Luxembourg – Luxembourg
 
Macedonia – Skopje
Madagascar – Antananarivo
Malawi – Lilongwe
Malaysia – Kuala Lumpur
Maldives – Male
Mali – Bamako
Malta – Valletta
Marshall Islands – Majuro
Mauritania – Nouakchott
Mauritius – Port Louis
Mexico – Mexico City
Micronesia – Palikir
Moldova – Chisinau
Monaco – Monaco
Mongolia – Ulaanbaatar
Montenegro – Podgorica
Morocco – Rabat
Mozambique – Maputo
Myanmar (Burma) – Naypyidaw
 
Namibia – Windhoek
Nauru – Yaren District
Nepal – Kathmandu
Netherlands – Amsterdam
New Zealand – Wellington
Nicaragua – Managua
Niger – Niamey
Nigeria – Abuja
North Korea – Pyongyang
Norway – Oslo
 
Oman – Muscat
 
Pakistan – Islamabad
Palau – Ngerulmud
Palestine – Ramallah
Panama – Panama City
Papua New Guinea – Port Moresby
Paraguay – Asunción
Peru – Lima
Philippines – Manila
Poland – Warsaw
Portugal – Lisbon
 
Qatar – Doha
 
Romania – Bucharest
Russia – Moscow
Rwanda – Kigali
 
Saint Kitts and Nevis – Basseterre
Saint Lucia – Castries
Saint Vincent and the Grenadines – Kingstown
Samoa – Apia
San Marino – San Marino
Sao Tome and Principe – São Tomé
Saudi Arabia – Riyadh
Senegal – Dakar
Serbia – Belgrade
Seychelles – Victoria
Sierra Leone – Freetown
Singapore – Singapore
Slovakia – Bratislava
Slovenia – Ljubljana
Solomon Islands – Honiara
Somalia – Mogadishu
South Africa – Pretoria (executive); Cape Town (legislative); Bloemfontein (judicial)
South Korea – Seoul
South Sudan – Juba
Spain – Madrid
Sri Lanka – Sri Jayawardenepura Kotte (legislative); Colombo (commercial)
Sudan – Khartoum
Suriname – Paramaribo
Swaziland – Mbabane
Sweden – Stockholm
Switzerland – Bern
Syria – Damascus
 
Taiwan – Taipei
Tajikistan – Dushanbe
Tanzania – Dodoma
Thailand – Bangkok
Timor-Leste – Dili
Togo – Lomé
Tonga – Nukuʻalofa
Trinidad and Tobago – Port of Spain
Tunisia – Tunis
Turkey – Ankara
Turkmenistan – Ashgabat
Tuvalu – Funafuti
 
Uganda – Kampala
Ukraine – Kyiv
United Arab Emirates – Abu Dhabi
United Kingdom – London
United States of America – Washington D.C.
Uruguay – Montevideo
Uzbekistan – Tashkent
 
Vanuatu – Port Vila
Vatican City (Holy See) – Vatican City
Venezuela – Caracas
Vietnam – Hanoi
 
Yemen – Sana'a
 
Zambia – Lusaka
Zimbabwe – Harare
 
Landmarks
Pyramids of Giza
Parthenon
Colosseum
Statue of Liberty
Cristo Redentor
Forbidden City
Eiffel Tower
Taj Mahal
Petra in Jordan
Chichen Itza
Dome of the Rock
Monas – Jakarta
Juche Tower
Brandenburg Gate
Cathedral of Santiago de Compostela
Kosciuszko Mound
St. Basil's Cathedral
Machu Picchu
Big Ben
Tower of Pisa
Gateway Arch
Washington Monument
Mecca
Agia Sophia
Sagrada Familia
Neuschwanstein
Angkor Wat
Mount Rushmore
Blue Mosque
Konark Sun Temple
Sacre Coeur
Atomium
Golden Temple of Amritsar
Lotus Temple
Hollywood Sign
Piazza San Marco Venice
Azadi Tower
Skyscrapers
Burj Khalifa (829 m)
Makkah Clock Royal Tower Hotel (601 m)
One WTC (541 m)
Taipei 101 (509 m)
Shanghai World Financial Center (492 m)
International Commerce Centre (484 m)
Petronas Tower (452 m)
Willis Tower(442 m)
KK100 Shenzhen (442 m)
Guangzhou International Finance Center (440 m)
Jin Mao Tower (421 m)
Princess Tower (414 m)
Al Hamra Tower (413 m)
Empire State Building (381 m)
Tuntex Sky Tower (378 m)
JW Marriott Marquis (355 m)
Rose Tower (333 m)
Ryugyong Hotel (330 m)
Wenzhou World Trade Center (322 m)
Burj Al Arab (321 m)
Chrysler Building (319 m)
Bank of America Plaza (317 m)
U.S. Bank Tower (310 m)
Menara Telekom (310 m)
Ocean Heights (310 m)
Cayan Tower (306 m)
The Shard (306 m)
Etihad Tower (305 m)
Northeast Asia Trade Tower (305 m)
Kingdom Centre (302 m)
Aspire Tower (300 m)
Eureka Tower (297 m)
Yokohama Landmark Tower (296 m)
One Liberty Place (288 m)
Williams Tower (275 m)
Bitexco Financial Tower (262 m)
Al Faisaliyah Center (267 m)
Triumph Palace (264 m)
Aqua Chicago (262 m)
Grand Lisboa (261 m)
Transamerica Pyramid (260 m)
Commerzbank Tower (259 m)
Messeturm Frankfurt (257 m)
The Imperial Mumbai (254 m)
Torre de Cristal (249 m)
The Sail @ Marina Bay (245 m)
Soul Gold Coast (243 m)
Soleil Brisbane (243 m)
F and F Tower (243 m)
Mountains
Mount Everest (8848 m)
Aconcagua (6961 m)
Mount McKinley (6194 m)
Mount Kilimanjaro (5895 m)
Mount Elbrus (5642 m)
Mount Vinson (4892 m)
Puncak Jaya (4884 m)
Mount Kosciuszko (2228 m)
K2 (8611 m)
Ojos del Salado (6893 m)
Mount Logan (5959 m)
Dykh-Tau (5205 m)
Mount Kenya (5199 m)
Mount Tyree (4852 m)
Puncak Mandala (4760 m)
Mount Townsend (2209 m)
Kangchenjunga (8586 m)
Monte Pissis (6793 m)
Pico de Orizaba (5636 m)
Shkhara (5193 m)
Mawenzi (5149 m)
Mount Shinn (4661 m)
Puncak Trikora (4750 m)
Nanga Parbat (8126 m)
Gasherbrum (8080 m)
Nanda Devi (7816 m)
Namcha Barwa (7782 m)
Jengish Chokusu (7439 m)
Muztagh Tower (7276 m)
Machapuchare (6993 m)
Ama Dablam (6856 m)
Chimborazo (6268 m)
Aucanquilcha (6176 m)
Uturunku (6020 m)
Mitre Peak(6010 m)
Alpamayo (5947 m )
Pico Cristóbal Colón (5700 m)
Mount Damavand (5670 m)
Bogda Peak (5445 m)
Pico Bolívar (4978 m)
Vinson Massif (4892 m)
Mont Blanc (4810 m)
Klyuchevskaya Sopka (4750 m)
Ras Dashen (4550 m)
Mount Wilhelm (4509 m)
Matterhorn (4478 m)
Mount Rainier (4392 m)
Mount Sidley (4285 m)
Volcán Tajumulco (4220 m)
Mauna Kea (4207 m)
Mount Kinabalu (4095 m)
Mount Fuji (3776 m)
Mount Etna (3350 m)
Cerro Torre (3128 m)
Tre Cime di Lavaredo (2999 m)
Wetterstein Mountains (2962 m)
Rila (2925 m)
Huayna Picchu (2720 m)
Mount Bromo (2329 m)
Snæfellsjökull (1446 m)
Table Mountain (1084 m)
Kirkjufell (463 m)
Hwajangsan (285 m)
Diamond Head (232 m)
Mount Tenpō (5 m)
US States
Alabama
Alaska
Arizona
Arkansas
California
Colorado
Connecticut
Delaware
District Of Columbia
Florida
Georgia
Hawaii
Idaho
Illinois
Indiana
Iowa
Kansas
Kentucky
Louisiana
Maine
Maryland
Massachusetts
Michigan
Minnesota
Mississippi
Missouri
Montana
Nebraska
Nevada
New Hampshire
New Jersey
New Mexico
New York
North Carolina
North Dakota
Ohio
Oklahoma
Oregon
Pennsylvania
Rhode Island
South Carolina
South Dakota
Tennessee
Texas
Utah
Vermont
Virginia
Washington
West Virginia
Wisconsin
Wyoming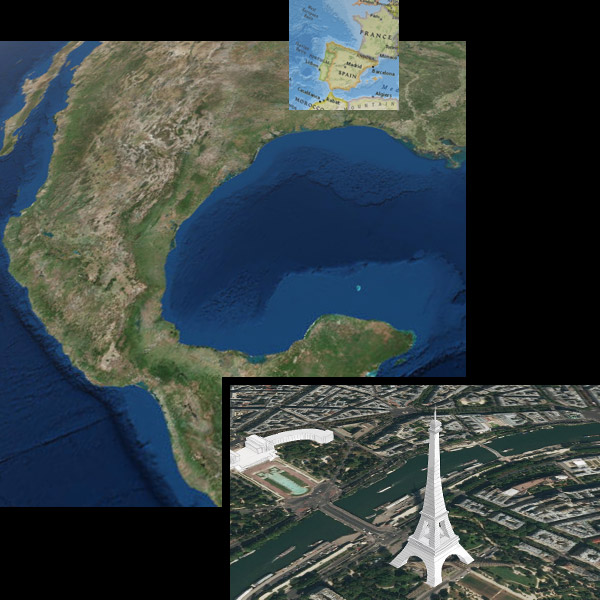 You are ready to travel!
This website use differend Maps APIs like ArcGIS: a powerful mapping and analytics software and Google Maps Embed: Place mode displays a map pin at a particular place or address, such as a landmark, business, geographic feature, or town; View mode returns a map with no markers or directions.
For users of Maps Embed API, Google uses cookies to determine the number of unique users of the API. Signed-in users are identified by their Google cookie, which is also used to provide a personalised experience. For users that are not signed in, Google uses an anonymous cookie for each unique user.
Google also accumulates statistics about the types of features used from the Maps product.
Image by NASA EPIC (Earth Polychromatic Imaging Camera) Team
Earth from the International Space Station
If you see a black image, the space station is on the night side of the Earth. When you see a picture with text displayed, the communication switch between satellites and camera feeds is temporarily unavailable. Between the camera switches black & slate grey will also appear briefly.
The first version of this websites used Google Earth plugin and Google Maps API.
The Google Earth plug-in allows you to navigate and explore new travel destinations on a 3D globe.
If the plug-in doesn't work correctly with Chrome, see the Chrome help center to learn how to update to the latest version.
Earth Plug-in requirements: Microsoft Windows (Windows XP, Windows Vista, and Windows 7) or Apple Mac OS X 10.6 or later (any Intel Mac). See more.