Earthquake in Turkey Live Map
View the latest earthquakes in Turkey on the interactive map. You can view the earthquake magnitude, location, depth and earthquake time. This service presents recent earthquake information from the USGS Prompt Assessment of Global Earthquakes for Response (PAGER) program.
In addition to displaying earthquakes by magnitude, this service also provide earthquake impact details. Impact is measured by population as well as models for economic and fatality loss.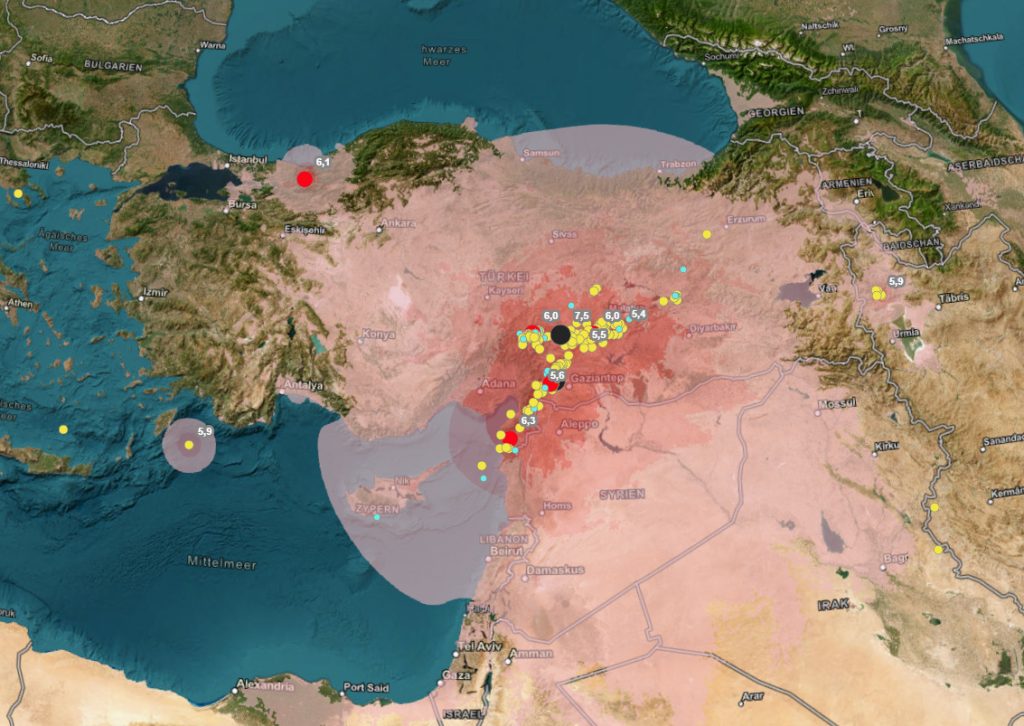 Events are updated as frequently as every 5 minutes  and are available up to 30 days with the following exceptions:
– Events with a Magnitude LESS than 4.5 are retained for 7 days
– Events with a Significance value, 'sig' field, of 600 or higher are retained for 90 days
Please refresh the page every 5 minutes, if you need latest information.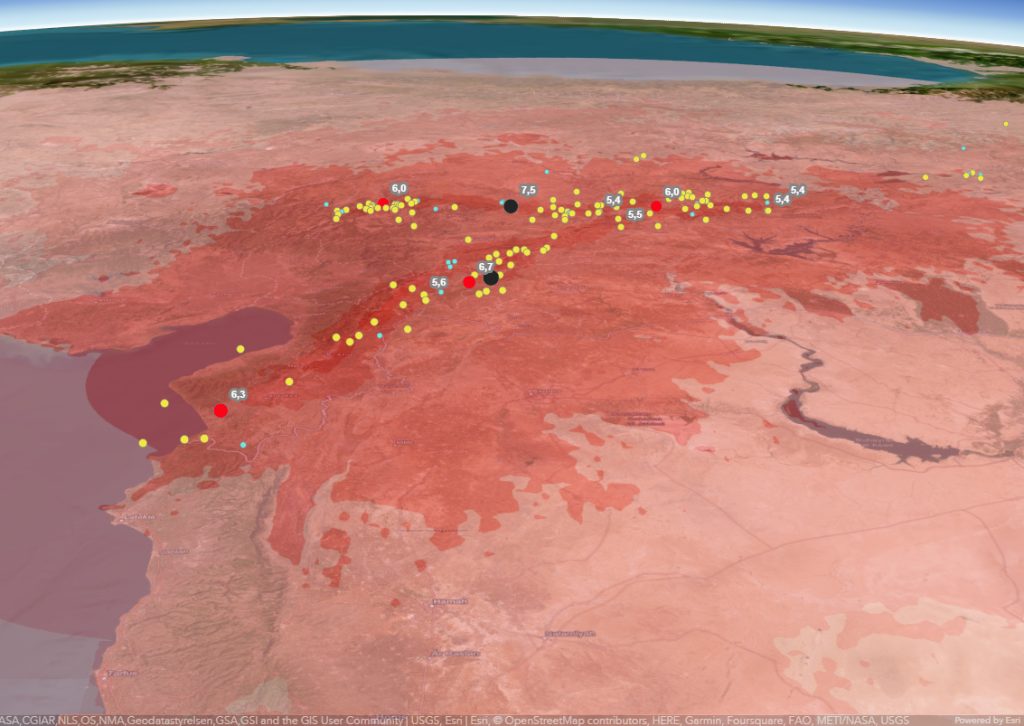 1 (undetectable) – only indicated by special devices;
 2 (very low) – only felt by very sensitive pets and people in the upper floors of tall buildings;
3 (low) – feels only in some buildings, like the vibration of a truck;
4 (moderate) – the earthquake is felt by many people; It is possible to balance open windows and doors;
5 (strong note) – shaking of hanging objects, noise in construction, window breakage, dust blowing;
6 (strong) – slight damage to construction of buildings, cracks in plaster, etc.;
7 (very strong) – significant damage to buildings; Cracks in the plaster and breaking of individual pieces, thin cracks on the walls, cracks of chimneys; Cracks in the foundations;
8 (destructive) – destruction in buildings: large cracks on the walls, falling cornices and chimneys. Landslides and cracks up to a few centimeters on mountain slopes;
9 (devastating) – burglary of some buildings, falling walls, dividing walls and roofs. Landslides, collapse and falling debris into the mountains. The rate of increase of the cracks can be up to 2 cm/s;
10 (destructive) – collapse of many buildings; In others – serious damage. Cracks in the ground up to 1 m wide, avalanches, landslides. Through the accumulation of rubble, lakes can form in the river valleys;
11 (catastrophic) – numerous cracks on the surface of the earth, large avalanches in the mountains. Mass destruction of buildings;
12 (total) – changes of the relief on a large scale. Huge avalanches and burglaries. Total destruction of buildings and facilities.